The Weight in the Air
Tuesday, 22 March, 2022 - 17:00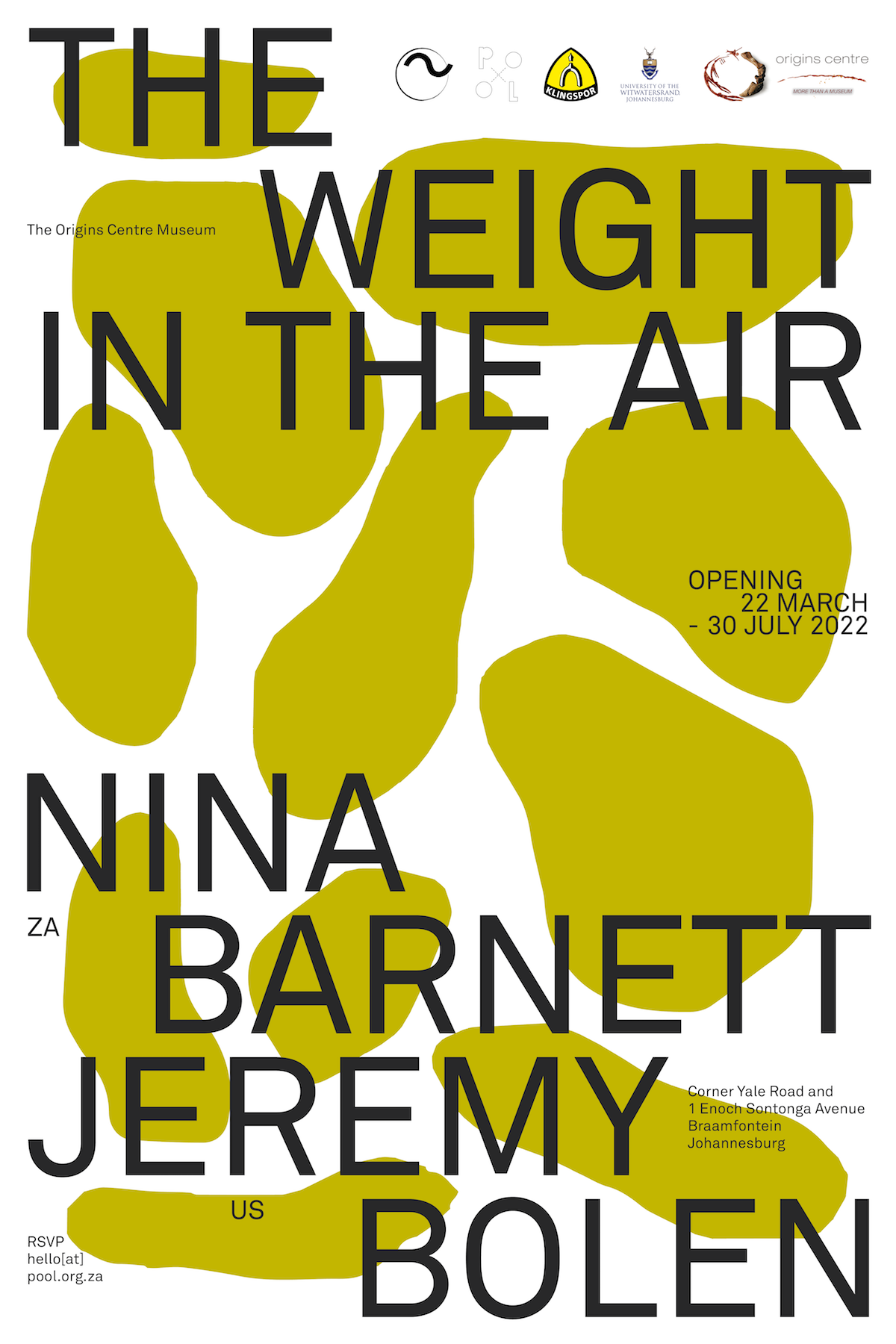 The Weight in the Air
Nina Barnett & Jeremy Bolen

Opening: 5 pm - 8 pm 22 March 2022
RSVP hello@pool.org.za
Exhibition closes: 30 July 2022

Artist walkabout 23 March at 12 pm
The Origins Centre Museum
Corner Yale Road & 1 Enoch Sontonga Ave
Braamfontein
Johannesburg
The Origins Centre Museum and POOL present the exhibition, The Weight in the Air, by collaborating artists Nina Barnett (ZA) and Jeremy Bolen (US). Using Johannesburg as a site from which to consider the ecological, the (post)colonial and the cyclical, the exhibition offers a series of immersive, materially complex installations encouraging viewers to consider what is present in the air we inhabit.

Johannesburg is built for (and among sites for) gold extraction. The mines have defined the landscape - giving rise to the architecture and industry built from the extracted wealth, and to the apartheid system, the destruction of viable land and clean water, and the yellow mountain-sized piles of dust that mark and constitute the skyline. This dust, even when invisible, gives form to a history of colonialism and its destructive local cost. It moves freely through the porous air - settling on surfaces and within lungs.

This dust is the catalyst for the exhibition, which considers ways of sensing or knowing matter as particulate in the context of this city. In thinking through Johannesburg's dust and its physical, symbolic, radioactive impact; the exhibition brings attention to how particles retain a record of where they have come from, and have the potential to send material messages between far reaching places.

Nina Barnett and Jeremy Bolen have been collaborating since 2015. With a focus on forms of visibility and knowledge production, their work spans phenomena from neutrinos to dust storms incorporating research from disciplines such as physics, anthropology, mathematics and architecture. With an emphasis on modes of sensing and sensory archives, they employ filmmaking and installation strategies that create immersive and interactive experiences for participants. Their collaborative work has been exhibited widely with recent exhibitions and screenings in Johannesburg, Lima, Mexico City, Bilbao and Chicago.

This exhibition is made possible through the support of the Origins Centre, Klingspor Abrasives, edition~verso and Georgia State University.
The Weight in the Air forms part of a research focus undertaken by POOL, which investigates the diversity of engagement that artists have developed to climate crisis - be it as the anthropocene, the capitalocene, or the cthulhucene; as well as newer articulations that are emerging and being shaped across specific contexts.