Speakers: Grace A. Musila & Shireen Hassim on Writing Women
Thursday, 20 August, 2020 - 14:30
Authors and academics Shireen Hassim and Grace A. Musila discuss writing and editing stories and histories of remarkable women: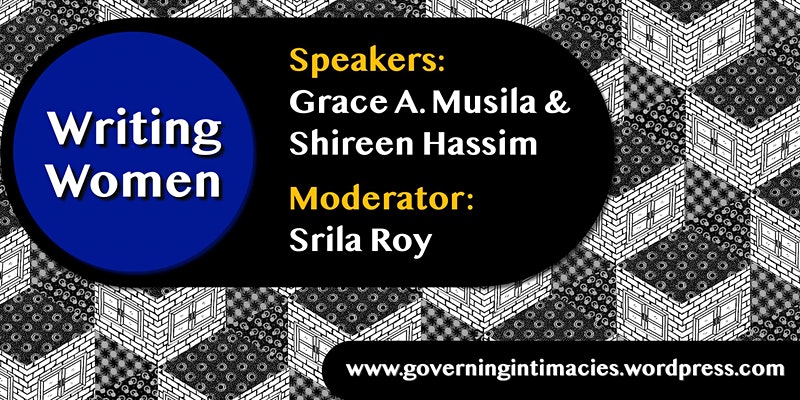 Authors and academics Shireen Hassim and Grace A. Musila discuss writing and editing stories and histories of remarkable women
About this Event
Rebecca Solnit describes the feature of living in a society that doesn't want women to have a voice, and that 'part of [this] voicelessness is nonexistence'.
In this context, what is involved the act, process and consequence of writing [about] women?
In this highly anticipated session of the ongoing Governing Intimacies webinar series, award-winning academics and authors Shireen Hassim and Grace A. Musila discuss their recent books – respectively, on anti-apartheid activist and academic Fatima Meer; and Kenyan Nobel laureate and environmental and political activist Wangari Maathai – which were published by the South African Human Sciences Research Council (HSRC) Press as part of its the 'Voices of Liberation' series.
The session, titled 'Writing Women' will be facilitated by Professor Srila Roy.
Professor Shireen Hassim is Canada 150 Research Chair in Gender and African Studies at Carleton University, Ottawa, and Visiting Professor, WiSER, Wits University. She has written and edited several books including No Shortcuts to Power: Women and Policymaking in Africa, and Go Home or Die Here: Violence, Xenophobia and the Politics of Difference in South Africa. Women's Organisations and Democracy: Contesting Authority won the Victoria Shuck Award for Best Book in Women and Politics from the American Political Science Association. Her interests lie in feminist theory and politics, collective action and histories of mobilization of women, and social policies and gender. Her most recent book was an archival recuperation of the work of the South African sociologist, Fatima Meer, and she has also worked on aspects of the life of Winnie Mandela. She is a Member of the Academy of Science of South Africa.
Professor Grace A Musila is an associate professor in the Department of African Literature at the University of the Witwatersrand, Johannesburg. Her teaching and research centers on Eastern and Southern African literatures, African popular cultures and gender in Africa. She is the editor of Wangari Maathai's Registers of Freedom (HSRC Press, 2020), author of A Death Retold in Truth and Rumour: Kenya, Britain and the Julie Ward Murder (Boydell & Brewer, 2015); and co-editor of Rethinking Eastern African Intellectual Landscapes (Africa World Press, 2012; with James Ogude and Dina Ligaga).
Date and Time
Wed, 19 August 2020
Register here for webinar.