A reading cycle developed by Sinethemba Twalo and Abri de Swardt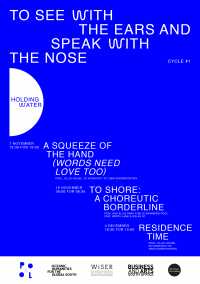 7 November - 4 December 2019
Cycle #1
7 November 18:30 for 19:00, POOL, Ellis House, 23 Voorhout St, New Doornfontein 
A Squeeze of the Hand (Words need Love too)
 
16 November 08:30 for 08:30, Ellis Park Public Swimming Pool, Cnr. North Lane & Erlan St, New Doornfontein
To Shore: A Choreutic Borderline
 
4 December 18:30 for 19:00, Meet at POOL, Ellis House, 23 Voorhout St, New Doornfontein 
Residence Time
Please RSVP here to receive readings for the first gathering.
Beginning from Amal Donqul's statement that the sea like the desert does not quench thirst, READING CYCLE #1 invites participants to explore questions of entanglement, chaos, desire, contradiction within everyday life and the imminent unknown. The cycle traces the echogenic qualities of water, its reverberating hums, its fluidity and constant movement back and forth, which impel a becoming (other)wise.
Through a performativity of textual immersion in which boundaries between literary and theoretical genres become porous, and dissipate against and within each other, the cycle enunciates wetness as a conduit for the affective capacities of words. The title points to the sensorium of cetaceans, suggesting a trans-position and embalming of our own orientations to embrace hydromechanics as a gesture of (dis)solution, a streaming of bodies, and a pooling of temporalities. This use of 'temporal' touches upon the use of temps in French for both time and weather, heeding us that we should think of time, citing Michel Serres, as aleatory mixtures of the temperaments, of intemperate weather, of tempests and temperature which percolates rather than flows. Time is thus approached as historically thermodynamic. In aligning the sessions with the quarter moons a tidal attenuation and equilibrium is approached outside of chrononormativity. Cast beneath the waters, one crosses over into an aesthetics of drowning.
To See With The Ears and Speak With The Nose forms part of Holding Water - a programme of workshops, reading groups, film screenings and artist presentations that think the oceanic from land-locked Johannesburg, commissioned by POOL and the Oceanic Humanities for the Global South, WiSER, Wits University.
For more information please contact hello@pool.org.za
This project is kindly supported by the Oceanic Humanities for the Global South, WiSER, Business and Arts South Africa, and Ellis House Art Building.
POOL is committed to supporting the development of artists and curators through close collaboration, commissioning and production of new work. POOL champions emerging practice as well as experimental artist and curator-led work and research initiatives.