WiSER invites you to the launch of
Pumla Dineo Gqola's new book
A South African Nightmare
R A P E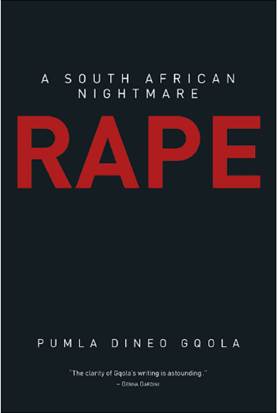 Respondents:

Sarah Godsell and Malebo Gololo
Chair:

Danai Mupotsa
In Rape: A South African Nightmare, Pumla Dineo Gqola unpacks the complex relationship South Africa has with rape by paying attention to the patterns and trends of rape, asking what we can learn from famous cases and why South Africa is losing the battle against rape. This highly readable book asks provocative questions and examines the shock belief syndrome that characterises public responses to rape, the female fear factory, boy rape, the rape of Black lesbians and violent masculinities. The book interrogates the high profile rape trials of Jacob Zuma, Bob Hewitt, Makhaya Ntini and Baby Tshepang as well as the feminist responses to the Anene Booysen case.
Wednesday, 2nd March 2016
6:00 - 7:30
WiSER Seminar Room 6th Floor, Richard Ward Building East Campus, Wits University 
RSVP: Najibha.Deshmukh@wits.ac.za
Pumla Dineo Gqola is the author of What is Slavery to Me? Postcolonial/Slave memory in Post-apartheid South Africa (published by Wits Press in 2010), A Renegade Called Simphiwe (published by MFBooks Joburg in 2013) and editor of Regarding Winnie: Feminism, race and  nation in global representations of Winnie Madikizela Mandela (forthcoming with Cassava Republic Press). She  has  written  non-fiction and opinion pieces for Pambazuka, Mail & Guardian, The Weekender and City Press as well as the British publications BBC Focus on Africa, SABLE and Drum (UK) and short stories in literary journals and books published in South Africa, the USA and the UK. Pumla holds MA degrees from the universities of Cape Town and Warwick, UK, and a PhD from the Ludwig Maximillian University of Munich, Germany. She is a Professor of African literary and gender studies at the University of the Witwatersrand.