WiSER and Penguin Random House invite you to the launch of
Steven Robins's new book
Letters of Stone
From Nazi Germany to South Africa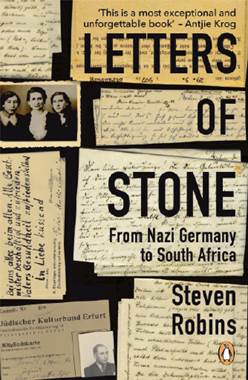 Terry Kurgan, Catherine Burns, and Victoria J. Collis-Buthelezi in conversation with Steven Robins.  
At the heart of Letters of Stone: From Nazi Germany to South Africa, is an archive of almost a hundred letters sent from the author's family in Berlin during the Nazi terror, to his father in South Africa. This correspondence is both the key to a family mystery, but is also a means of exploring the ways in which the rise of eugenics and racial science was worked out in devastatingly intimate ways within families forced to flee Europe, and to make desperately difficult choices on their journeys around the world.  
Part memoir, and part history of the Holocaust and the long shadow it still casts, Steven Robins's new book asks important questions about guilt, belonging, and our complicated relationship with the past.  
Steven Robins is a professor in the Department of Sociology and Social Anthropology at the University of Stellenbosch. He has written on a wide range of topics, including the Truth and Reconciliation Commission, the politics of land and identity, and social movements and popular politics in South Africa. Apart from his academic writings, Steven is also a regular newspaper op-ed contributor on issues of public concern.  
Wednesday, 24th February 2016
6:00 - 7:30  
WiSER Seminar Room
6th Floor, Richard Ward Building
East Campus, Wits University  
Drinks will be served.