Launch of Critique of Black Reason
Wednesday, 7 June, 2017 - 17:30
Achille Mbembe's CRITIQUE OF BLACK REASON was published in French in 2013 to great acclaim.
Translated in German, Spanish, Portuguese, Romanian, Dutch (and soon in Italian, Polish and Slovenian), it won the 2013 Prix Feltkan in France and
in 2015 it won the Geschwister Scholl-Preis in Germany. The English translation includes a substantial introduction by historian Laurent Dubois.
WiSER and Wits University Press invite you to the launch of the South African edition of
CRITIQUE OF BLACK REASON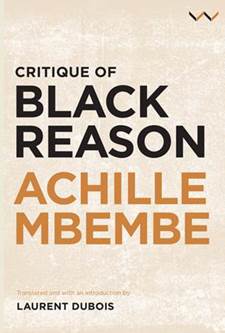 Achille Mbembe will be in conversation with Bongani Madondo, Candice Jansen, Victoria Collis-Buthelezi, Rogers Orock and Claudia Gastrow.
With Critique of Black Reason, Achille Mbembe reaffirms hisposition as one of the most original and significant thinkers of

our times working out of Francophone traditions of anti-imperialand postcolonial criticism.— Dipesh Chakrabarty
Achille Mbembe speaks authoritatively for black life, addressing the whole world in an increasingly distinctive tone of voice.— Paul Gilroy
Every page of this signifying riff on Kant's Critique of Pure Reason is a delight to read.— Henry Louis Gates JR
Tuesday, 6
th
June 2017
18:00 to 19:30pm
WiSER Seminar Room
6th Floor, Richard Ward Building
East Campus, Wits University
Drinks and snacks will be served