INVITE | Public Positions: Fanon After Fanon I Session 6 by Emily Apter | 2 June | 6pm
Wednesday, 2 June, 2021 - 18:00
WISER PUBLIC POSITIONS SERIES 2021
FANON AFTER FANON

From February to October of 2021, WiSER's PUBLIC POSITIONS Series will present ten public thematic dialogues on the new generation of Fanon studies. Particular emphasis will be placed on the political and the clinical, the close communication between the two, how they impact upon one another and are at times mistaken for each other.

Speakers are invited to develop one or more arguments for 20 minutes each. This will be followed by a dialogue led by Professor Achille Mbembe before the session is opened to a broader audience. The Series will be presented online from 18:00 to 19:30 (Johannesburg time) and a link will be sent out a week before each session.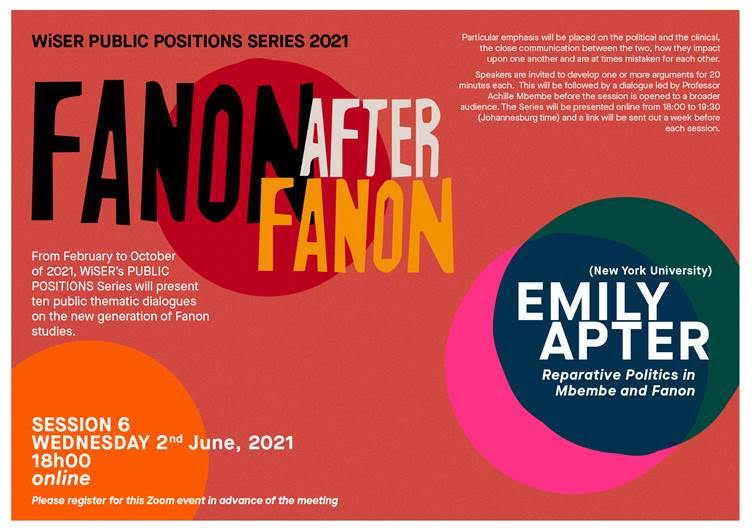 Session 6

Emily Apter (New York University)
Reparative Politics in Mbembe and Fanon

Wednesday, 2nd June
6pm (SA time)

Please register for this Zoom event in advance of the meeting
https://wits-za.zoom.us/webinar/register/WN_YJoKr1FPTbqaWOL0om2Cqg