INVITE | "Making Homes in Displacement: Critical Reflections on a Spatial Practice" by Prof. Hilde Heynen | 7 June | 6pm
Tuesday, 7 June, 2022 - 18:00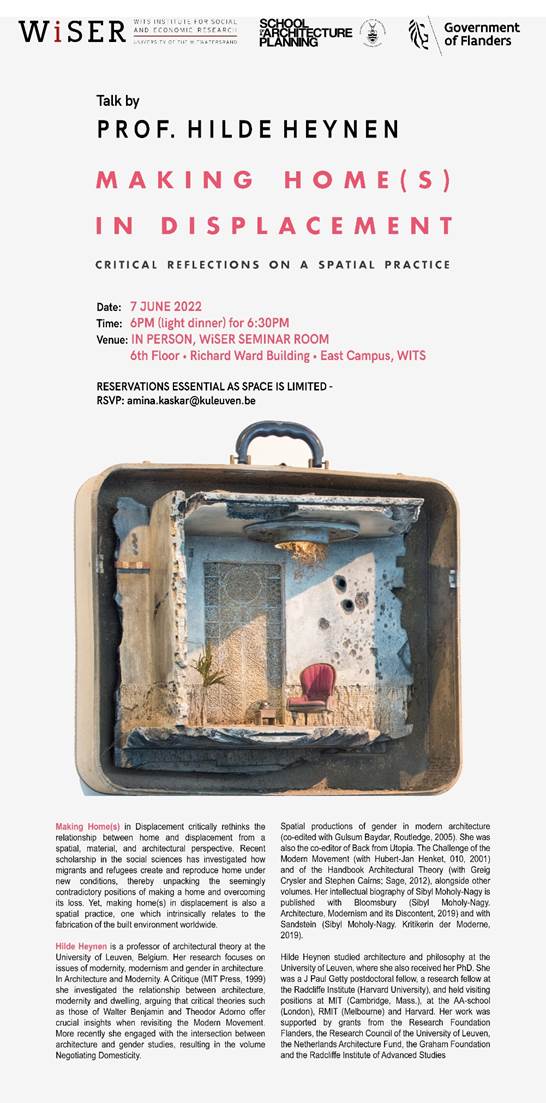 WiSER, the School of Architecture and Planning invite you to a talk by
Prof. Hilde Heynen (KU Leuven)
"Making Homes in Displacement: Critical Reflections on a Spatial Practice"
Making Home(s) in Displacement critically rethinks the relationship between home and displacement from a spatial, material, and architectural perspective. Recent scholarship in the social sciences has investigated how migrants and refugees create and reproduce home under new conditions, thereby unpacking the seemingly contradictory positions of making a home and overcoming its loss. Yet, making home(s) in displacement is also a spatial practice, one which intrinsically relates to the fabrication of the built environment worldwide.
Tuesday, 7th June 2022
6pm for 6:30pm
WiSER Seminar Room – 6thFloor, Richard Ward Building,
East Campus, Wits University
Sponsored by the Government of Flanders
Reservations are essential as space is limited.
RSVP here
Hilde Heynen is a professor of architectural theory at the University of Leuven, Belgium. Her research focuses on issues of modernity, modernism and gender in architecture.