INVITE | Lecture by Eyal Weizman on "Cloud Studies: Atmospheric Violence"
Wednesday, 28 September, 2022 - 18:00
WiSER invites you to an online lecture in our PUBLIC POSITIONS SERIES by Eyal Weizman (Goldsmiths, University of London)
"Cloud Studies: Atmospheric Violence"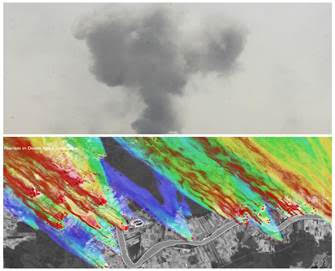 Airborne toxins, like the colored smoke in a wind tunnel, highlight the dynamics of power. Tear gas is deployed to disperse bodies gathering in democratic protest, white phosphorus, and chlorine gas to spread terror in cities, aerial herbicides to destroy arable land and ruin livelihoods, and the smoke rising from large-scale arson to eradicate forests for industrial plantations. Toxic clouds colonize the air we breathe across different scales and durations, from urban squares to continents, unique incidents to epochal latencies.
It is a basic principle of forensics that, between solid objects, "every contact leaves a trace". By contrast, clouds are the epitome of transformation, their dynamics are governed by nonlinear, multi-causal logics. This condition was apparent throughout the history of painting, when clouds, moving faster than the painter's brush could capture them, needed to be imagined rather than described.
Clouds are always double. Seen from the outside they are measurable objects, seen from within they are experiential conditions of optical blur and atmospheric obscurity. Today's clouds are both environmental and political. Their toxic fog is easily surrounded by lethal doubt. When denialism obscure acts of violence, we, the inhabitants of toxic clouds, must find new ways of resistance.
*This lecture is part of WiSER's ongoing contribution to WitsUniversity's 2022 Centenary programme*
Wednesday 28th September 2022 6pm (SA time)
Please register for this Zoom event in advance of the meeting https://wits-za.zoom.us/meeting/register/tJMpcO6gpj8tH93vAi93IYn0PIT4N30gDt7Y