Invite | Eight Ways of Thinking Unsettlement | 4 March | 5pm
Friday, 5 March, 2021 - 16:30
The project on Unsettlement was founded to address the predicament of those who, today, are stranded in states of indefinite displacement, deferred arrival and recurrent departure - people who live in places that lack infrastructures of permanence, but who must reside there for years, decades and even generations. They are often on the move, but lack the freedom and rights of mobility. Unsettlement in this sense is not merely a question of migrancy, and the project is impelled by the need to generate concepts and forms of practice that move beyond that discourse and the associated assumptions of transition. It aims to address the duration, intensity and uncertainty of long-term displacement, while moving beyond oppositions between voluntary and involuntary movement, on one hand, and economic or material exigency versus economic desire on the other
This roundtable discussion will be a space to generate conversation and to reflect on and our ongoing work in defining new concepts and terms to describe and understand the phenomenon of "Unsettlement." Registrants will be asked to listen to voice notes from each of our eight speakers on themes that emerged from our November discussion and that will help us to "Think Unsettlement."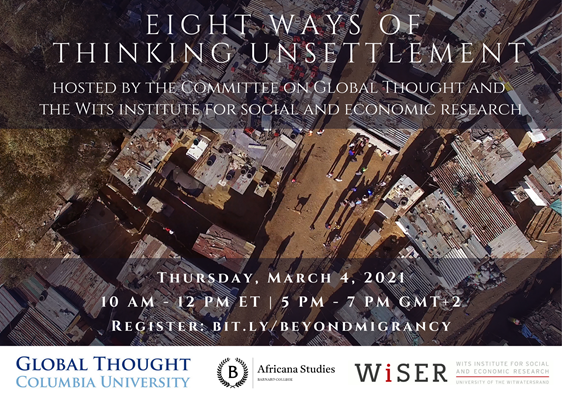 Yvette Christiansë: Unfreedom, Policing the Liquid Space of Nation-Formation
Euclides Gonçalves: Infrastructures of Impermanence, the 'Peripheral Urban'
Isabel Hofmeyr: Landedness and the Landed Subject
Johannes Machinya: Deportability
Mpho Matsipa: Interior Exteriority, Borderlands, Black interiority
Achille Mbembe: Habitability, Livability, Planetarity
Rosalind Morris: Interruption, Diversion, Suspension
Sarah Nuttall: Pluviality: Rain and Roadblocks, 'Changing States'
Thursday, March 4
10 AM to 12 PM (New York)
5 PM to 7 PM (South Africa)
Register: bit.ly/beyondmigrancy
This a follow-up discussion to last November's "Insecure Zones: Reflections from Africa and the Indian Ocean," hosted by the Committee on Global Thought at Columbia University and the Wits Institute for Social and Economic Research (WISER), and sponsored by the Department of Africana Studies at Barnard College.