Join the School of Public Health, WiSER Medical Humanities, and the Science, Technology and Medicine Reading Group for this dynamic discussion on gender-based violence and rape on our campus.
Facilitated by Professor Laetitia Rispel, Head of the School of Public Health, the panelists and respondents include: Tshepiso Maleswena and Hlengiwe Ndlovu (#IAmOneInThree student activists); Li'Tsoanelo Zwane (Masters in Education student and activist); Pontsho Pilane (Journalist: Mail&Guardian); Quaz Roodt (Poet); Maria Wanyane (Clinical social worker, Gender Equity Office); Dumisane Rebombo (One Man Can National Manager, Sonke Gender Justice); Lisa Vetten (Political scientist at WiSER); and Abigail Hatcher (Researcher, School of Public Health). Followed by a Q&A session.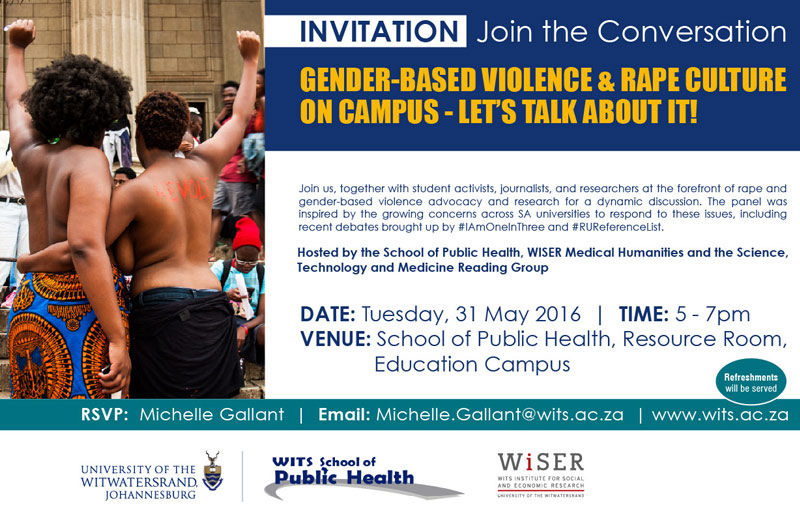 #TransformWits
The Gender Equity Office (GEO), established at Wits in 2014, is a safe and confidential space where complainants and survivors of gender-based harm can receive support and discuss redress for their complaints, whether through mediation, informal discussion or the gender-sensitive disciplinary procedure for gender-related misconduct.
The GEO wants to optimise its advocacy and gender sensitisation interventions with your input and suggestions that can be emailed to info.geo@wits.ac.za. If you are experiencing or have experienced any form of gender-based harm, come and talk to the GEO, situated on the 20th Floor, University Corner, Braamfontein Campus East, or call us on (011) 717-9790.