WISER and the Wits Philosophy Department invite you to join us for a seminar by
Myisha Cherry
Anger Management: An Alternative View
For thousands of years, philosophers and psychologists have given us resources to help us control and manage anger. Although we have gotten much more sophisticated over time with our approaches and have science on our side to prove its effectiveness, there is nothing new under the sun. Cherry argues, however, that the ways in which thinkers have addressed anger management fail to give proper attention to and take advantage of the appropriate, motivational, and productive features of a distinct kind of political anger. An alternative plan is needed. Cherry offers up an anger management plan––informed by feminist philosophy and black political thought––that speaks to the aforementioned concerns; helping political anger maintain it's unique features and aid in political change.
The seminar will take place in the WISER seminar room, 6th Floor of Richard Ward, Wits Main Campus.
- - -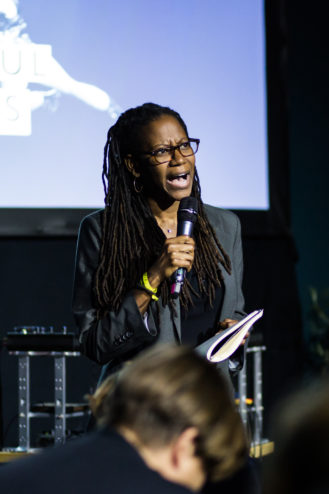 Myisha Cherry is an assistant professor of philosophy at the University of California, Riverside. Her research interest lies at the intersection of moral psychology and social and political philosophy. More specifically she is interested in the role of emotions and attitudes in public life.
Cherry's books include  'The Moral Psychology of Anger' co-edited with Owen Flanagan (Rowman and Littlefield, 2018) and "Unmuted: Conversations on prejudice, oppression, and social justice (Oxford University Press, 2019). She has written about emotions and race in such journals as Hypatia, Radical Philosophy Review, and Critical Philosophy of Race. 
In addition to her academic work, she has written publicly about political emotions, race, and justice for the Los Angeles Times, Salon, New Philosopher, and the Huffington Post. She has contributed essays to three volumes of Open Court's Philosophy and Pop Culture Series, exploring themes such as manipulation, white privilege, and community and police relations. Cherry is also the host of the UnMute Podcast, a podcast where she interviews philosophers about the social and political issues of our day. The podcast was recently featured in The Philosopher's Magazine.