Geschwister Scholl Award for 'Critique de la raison nègre'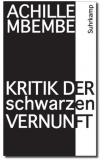 WiSER is proud to announce that the German edition of Achille Mbembe's latest book Critique de la raison nègre has been awarded the highly regarded 2015 Geschwister Scholl-Preis.
This literary prize was initiated in 1980 by the City of Munich and the Association of German Publishers and Booksellers (Bavaria). Each year, it honours a book which "shows intellectual independence and supports civil freedom, moral, intellectual and aesthetic courage and that gives an important impulse to the present awareness of responsibility". 
Former prize winners include renowned German philosopher Jürgen Habermas. 
The award ceremony will take place on November 30 at the University of Munich with 800 invited guests. A press conference will take place in the morning before the ceremony and a public event in one of Munich's best bookstores the day after. 
Critique de la raison negre was published in German by Suhrkamp Verlag AG.
"The award is a tribute to the work we do at WiSER and at the University of the Witwatersrand. Critique de la raison negre could not have been written anywhere else in the world. I want it to be read as a South African book. I owe a huge debt of gratitude to South Africa, and just as many other descendants of Africa in the world, I entertain huge hopes for this country" (Achille Mbembe).